Vickie Dunne Training Limited
Vickie Dunne Training Limited provide specialist and accredited training courses for organisations and individuals throughout Wexford and Leinster.
We offer professional training and consultancy and deliver training in first aid, manual handling, VDU assessment, fire safety, and infection prevention and control.
Our training is available to clients in a classroom setting, online, as well as on-site for larger groups or organisations. We are QQI approved to certify certs. PHECC certified courses are done in conjunction with a recognised PHECC Institute
Learners have the opportunity to develop and optimise their skill-sets thanks to our ongoing training and upskilling courses. Invest in your future today by booking a training course with Vickie Dunne Training Limited.

First Aid
We equip non-medical professionals with vital skills in first aid that allows them to effectively and correctly perform potentially life-saving first aid treatments. Our wide range of courses include paediatric first aid, sports first aid, as well as dedicated first aid courses.

Manual Handling
Our manual handling courses are designed for employers who need to comply with regulations while educating employees on how they can minimise the risk of injury when engaging in manual handling. We also provide patient manual handling courses that are tailored to healthcare workers.

VDU Assessor
Managers, supervisors or office personnel who are required to care of workplace safety and health regulations will gain the skills they need by taking our VDU Assessor course. Correctly assessing and identifying risks in relation to workstations are key learning objectives in our VDU Assessor course.

Fire Safety
Employers have a legal responsibility to ensure the safety of their employees. Our fire safety training is designed to give participants the skills and knowledge they need in the event of an emergency. Our qualified trainers will teach individuals everything they need to know in relation to fire safety and prevention.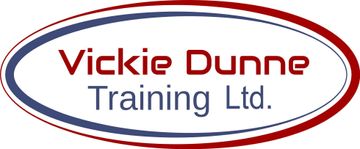 Infection Prevention And Control
Our infection prevention and control training course provides individuals with the essential skills they need to protect themselves and others. Healthcare workers or any other professionals who are responsible for infection prevention and control will become competent in a range of infection control techniques.
Frequently Asked Questions
How much do your first aid courses cost?

We have a wide selection of first aid courses for individuals to choose from. Please visit our booking page to see the different pricing for general first aid, as well as paediatric and sports first aid.

Do you provide on-site training for clients?

Yes. Vickie Dunne Training Limited can facilitate on-site training for larger groups or organisations. Please get in touch with us directly to discuss your requirements.

Can I enrol in a training course online as well as face-to-face?

Yes. We can arrange for participants to enrol in accredited training courses online as well as face-to-face. Please do not hesitate to get in touch if you have any questions.